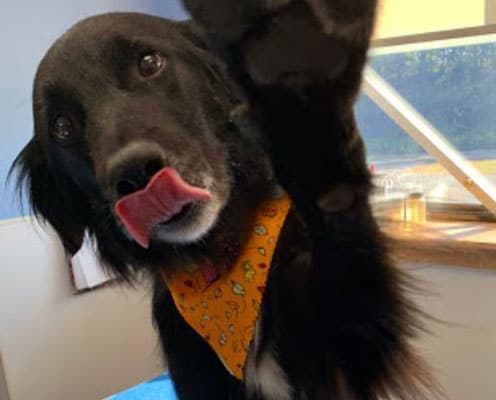 Award-Winning Dog Grooming in Cheshire, CT
Make your dog the envy of the neighborhood! Our Grooming Salon & Spa offers all the luxuries you expect from a human spa. Whether your pet needs a new haircut, relaxing bath, or maybe just some pampering, they'll look and feel amazing after a lovely day at our spa. See why we've earned the Cheshire Citizen Best Groomer Award multiple years in a row!
New Customer Free First Night of Boarding
We can't wait for you to experience the difference at Paws Pet Resort.
We're so sure you'll love it, your first night's FREE!
*Offer requires a 3-night minimum stay. Discount subject to availability and blackout dates, and cannot be combined with other offers.
Lodging discount applies to first-time customers only and is valid for any lodging accommodation selected.
Full-service haircuts to your specifications
Touch-up trims of the face, feet, and sanitary areas
Luxurious baths
Nail trims and maintenance
Teeth brushing
Shed control treatments
Fragrant, brightening facials
Specialty shampoos & conditioners
And more!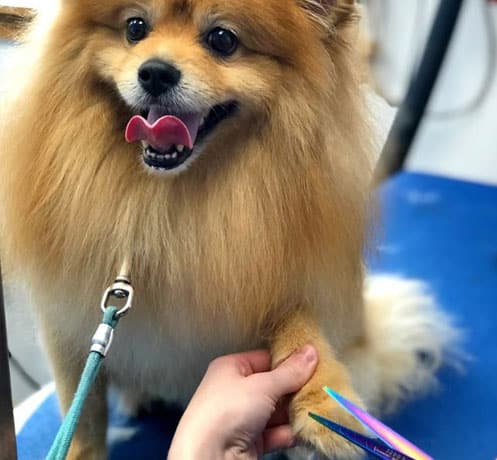 Let us pamper your pet with a superior bathing experience! Our Hydrosurge Bathing System uses gentle water to deeply penetrate the coat and wash away trapped dirt, dander, and loose hair—all while feeling like a relaxing massage. The spa treatment also includes a full brush out to further remove loose fur from the coat, ear cleaning, and nail trim.
Benefits of Professional Dog Grooming
Well-groomed pets are often healthier
Trimmed nails are safer for your pet as they won't snag or break
Clean ears help to avoid common ear infections
Extra fur mats easily and can cause skin problems
Thorough cleaning and brushing helps promote healthy hair and scalp
Our professional groomers' trained eyes can spot potential problems
The people who work at Paws are the most amazing, giving and loving employees. My dogs cannot wait to get there for daycare. And when I pick them up at the end of the day, I am greeted by friendly, nice and informative Paws employees, and by my very happy dogs!! I drive from Avon to Cheshire to utilize Paws. There are many choices much closer to my home, but I'll gladly do the drive to stay at Paws!! Keep up the amazing job you do! Bravo!!
— Dawn M
Absolutely exceptional love and care for our fur babies from Paws and the entire staff. We were hesitant and anxious on leaving our furbies for the first time, however put to ease as the stay days progressed. Very good and clear communication regarding our pups and their stay. Would highly recommend this extended family as an option for your fur baby. With appreciation on behalf of Penelope, Max and Italy
— Rose R
Excellent care for our puppy! The playtime pictures that were texted to us during her stay kept our minds at ease. She had a great visit and she was just as happy when we picked her up as she was when we dropped her off! We have used them in the past with other dogs and they were awesome then too. I wouldn't trust anyone else, the staff truly loves and cares the dogs!
— Alison S-H
Harlow has been going to Paws since she was 6mo old. She will be 10 next month. While I worked she went 2-3x a week. Now she still goes when we go on vacation. As soon as we turn in the parking lot she howls. She gets so excited! It's such a comfort knowing she loves it and she's in good hands! I love when they send a pic of her playing while I'm away. I know she's happy.
— Robin C
First time daycare here for our dogs and it was the best experience for all of us! The resort was so nice and inviting and the staff were super nice. We felt good leaving them and the best part was the pictures of their day. We were visiting from FL and only wish we had a resort like this to bring them to on a regular basis. This place is phenomenal and highly recommended!! Thank you for taking such great care of our pups to enjoy their play date!
— Diana Flynn
Every time we even mention Paws, our dogs get so excited and can't wait to stay there. The staff are phenomenal and I never have any doubt that my two fur babies will be well taken care of at Paws. They're always exhausted from the constant attention and playtimes they get. We truly love this facility and everyone who works there! Thank you so much for giving us the peace of mind that our pups are more than okay when we are not around! We will continue to use Paws time and time again!
— Elizabeth Hines