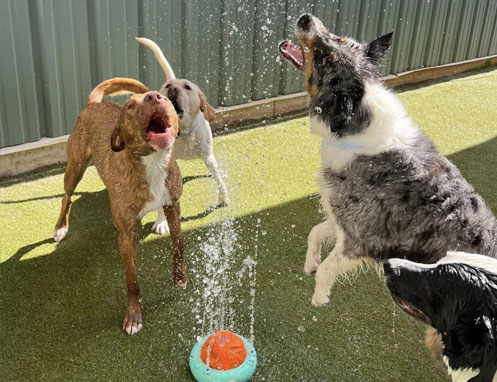 A Fun, Safe Place Where Dogs can be Dogs!
Paws Pet Resort & Spa provides award-winning dog daycare for your pet when you're busy or away from home. At daycare, your best furry friend receives the optimal amount of play, exercise and rest, with just the right amount of interaction with other dogs. Our clean and modern facility centrally located in Cheshire, CT, convenient to New Haven and Hartford Counties.
Thank you for choosing us for the Record-Journal Reader's Choice Award for Best Doggy Daycare!
Give us a call to schedule a reservation!
What is Dog Daycare at Paws Pet Resort & Spa Like?
In our Dog Daycare program, playgroups are chosen based on age, size, activity level and temperament. If a dog prefers one-on-one play, they'll receive custom play sessions with a human buddy. Each session includes play time, obedience reinforcement, use of puppy playground equipment, fresh air in the outdoors, lots of positive reinforcement with hands-on praise, and finally, a nap in their own comfortable private room!
When not at play, each pet relaxes in their own comfortable, private suite with tempered glass doors. Your dog will jump for joy in our indoor 3,000+ square foot canine gymnasium, or in one of the outdoor play yards during supervised playtime in groups or on an individual basis!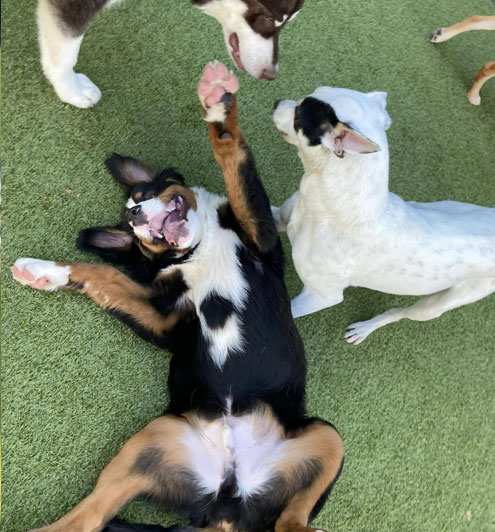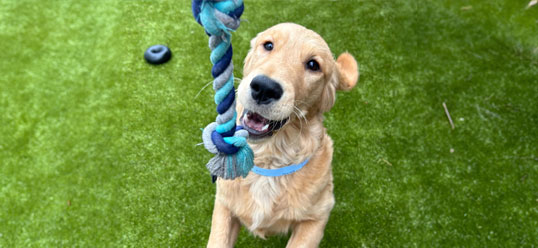 Pups who prefer human playmates get all the attention and playtime they deserve in our Custom Daycare program. Custom play includes one-on-one attention from a caregiver doing whatever your dog likes most, whether it's fetch, a walk around the yard, or belly rubs in the sunshine.
This special program is perfect for highly motivated and active dogs! In addition to a fun-filled day of group play, each pup enjoys an enrichment activity. Enrichment activities can include group games, custom playtime, trick training, agility games, and more.
Our puppy daycare program offers curious pups a safe and supervised place to play, explore their surroundings, and exercise their social skills. Puppies play in small group with other youngsters on a schedule designed for puppies. More frequent and shorter playtimes ensure puppies get the perfect balance of fun and rest.
While FUN is what we do, safety is even more important to us. We've designed our facility and daycare program to be a safe, trustworthy, and comfortable place for dogs.
Complete supervision by highly trained staff
Secure facility and play yards, including 24/7 monitoring
Thorough, facility-wide disinfection every day with pet-safe cleaning products
Advanced climate control, air purification, and air filtration systems
Carefully controlled pets-to-staff ratio
Playgrounds are thoughtfully chosen based on energy level, size, and personality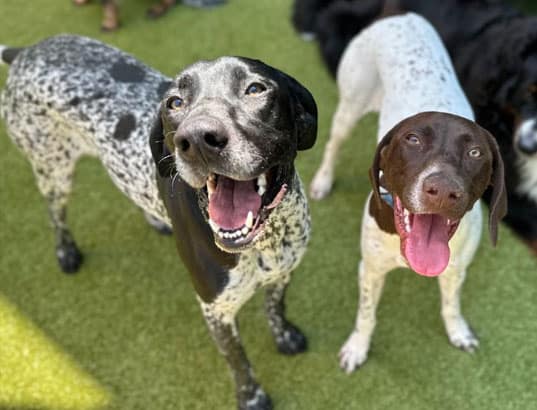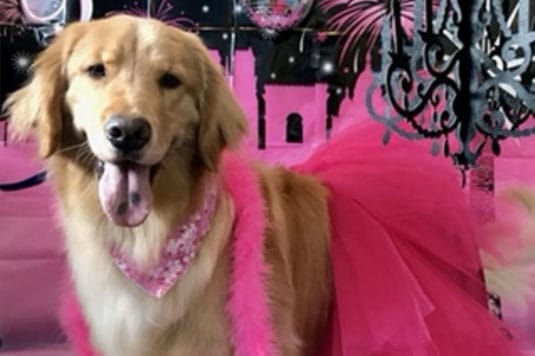 Dog Daycare at Paws Pet Resort & Spa provides your dog with a safe and convenient way to enhance his or her overall health and well-being. Dog daycare provides many benefits including:
Helps your dog develop a positive experience and confidence around other dogs and people.
Encourages a more physically fit dog by providing just the right amount of activity and rest.
Improves your dog's health, happiness, and quality of life.
Reduces the risk of undesirable behavior at home such as digging, chewing, aggression and uncontrolled barking.
We want to thank you, your husband and your entire staff for taking such great care of Willow and Neo while we were on vacation! They came back happy & healthy – and we know they'll enjoy returning.
— Theresa & Chuck MacNaughton
I could not be happier with our 2nd experience leaving Bruiser at Paws. I think he was more comfortable and calm.
— Marucci Family
I wish to thank all of you so much for all the kindness during my recent stay at your resort and spa. I really appreciated the rooms with a view and I certainly appreciated that extra attention & petting that Jenifer gave to me. I will be sure to all of my friends about your wonderful folks.
— Lady Cassie
Just wanted to say thank you for taking such good care of our babies. We appreciate it. It felt good to know they were being loved & cared for & given special attention.
— Steve, Wendy, Cookie, Cleo, and Sarah
Our dog, Kasey is staying at Paws. I want to take a moment to tell you how happy we are to have her there. We are so impressed with the cleanliness of Paws Resort and have out children bringing their dogs to you. I'm so grateful that you have designed Paws with everything we were looking for. We it not for my 5 grandchildren and their needs, I would love to work with such kind loving people who really know their stuff.
— Nancy O'Donnell
Just a short note to thank you for taking such good care of Eve when she has stayed with you and come in for grooming. I was very impressed that Eve's rugs and blankets were all washed when I came to pick her up. I know you all take great care of her, because she jumps out of the car and runs up to the doors as soon as I pull up.
— Colleen Kinyon