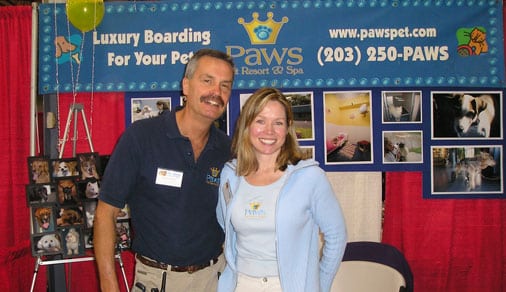 About Paws Pet Resort & Spa
Paws Pet Resort & Spa was opened in 2007 by Joe and Robin Whitright as a high-quality, trustworthy, and convenient home-away-from-home for dogs and cats across New Haven County. The Whitright family is deeply rooted in the community and attend as many local events as possible— if you've been to any Cheshire parades, you've probably seen the Paws Pet Resort float!
Joe and Robin are grateful for the opportunity to serve the pets and pet parents of their community while doing what they love: providing excellent pet care. Paws Pet Resort has been chosen for a number of awards, including:
Record-Journal Reader's Choice Awards: Best Pet Boarding, Best Doggy Daycare and Best Family-Owned Business
Cheshire Citizen "Best Of" Awards: Best Groomer and Best Family-Owned Business
Give us a call to schedule a reservation!
We're pet lovers who believe every pet deserves the same comfort and love they receive at home when their mom and dad are away. We provide the best luxury pet care services in Cheshire, CT. and have even been featured on Better Connecticut's Channel 3 news and Connecticut's Channel 8 news.
At Paws Pet Resort, we have a variety of services and accommodations to fit the individual needs of your pets. From our spacious luxury suites to our Mini-Mansions, and even our multi-room suites, all are fit for a king or queen!
Your dog will jump for joy in our expansive canine gymnasium, or in one of the outdoor play yards during supervised playtime in group or on an individual basis. The entire facility is air conditioned and heated with relaxing music played throughout.
And let's not forget about our feline friends! Cats enjoy spacious two-level condos in a separate cattery made especially for them. They can lounge on the sunny windowsill, play on a six-foot cat tree, or watch kitty videos made just for cats.
No matter whether your pet is visiting for overnight care, a fun day of play, or a pampering spa session, they'll receive loving, individualized care every time!
We want to thank you, your husband and your entire staff for taking such great care of Willow and Neo while we were on vacation! They came back happy & healthy – and we know they'll enjoy returning.
— Theresa & Chuck MacNaughton
I could not be happier with our 2nd experience leaving Bruiser at Paws. I think he was more comfortable and calm.
— Marucci Family
I wish to thank all of you so much for all the kindness during my recent stay at your resort and spa. I really appreciated the rooms with a view and I certainly appreciated that extra attention & petting that Jenifer gave to me. I will be sure to all of my friends about your wonderful folks.
— Lady Cassie
Just wanted to say thank you for taking such good care of our babies. We appreciate it. It felt good to know they were being loved & cared for & given special attention.
— Steve, Wendy, Cookie, Cleo, and Sarah
Our dog, Kasey is staying at Paws. I want to take a moment to tell you how happy we are to have her there. We are so impressed with the cleanliness of Paws Resort and have out children bringing their dogs to you. I'm so grateful that you have designed Paws with everything we were looking for. We it not for my 5 grandchildren and their needs, I would love to work with such kind loving people who really know their stuff.
— Nancy O'Donnell
Just a short note to thank you for taking such good care of Eve when she has stayed with you and come in for grooming. I was very impressed that Eve's rugs and blankets were all washed when I came to pick her up. I know you all take great care of her, because she jumps out of the car and runs up to the doors as soon as I pull up.
— Colleen Kinyon