Our Cat Suites are Purrfection!
Cats might seem pretty independent, but at Paws Pet Resort & Spa, we know they need just as much love as dogs. Our cat boarding accommodations are clean and comfortable, and all our feline guests enjoy regular and loving attention from our caring, experienced and certified staff. To provide them a safe and relaxing experience, our cat boarding guests receive their own special cat condos in a dog-free section of our pet boarding facility in Cheshire, CT. We're convenient to Waterbury, Meriden and the entire New Haven county area.
Give us a call to schedule a reservation!
Cat Boarding Accommodations
All of our feline guests enjoy their stay in one of our spacious two-level condos. We can expand our condos into two, three, or even four adjoining units for families with multiple cats or those who just prefer more room. Our condos provide comfort and safety for your cat which will give you peace of mind while you're away from home. Our guests will be given the opportunity to be out for play and exercise daily unless they would rather just enjoy their "home away from home" at our Cat Boarding resort.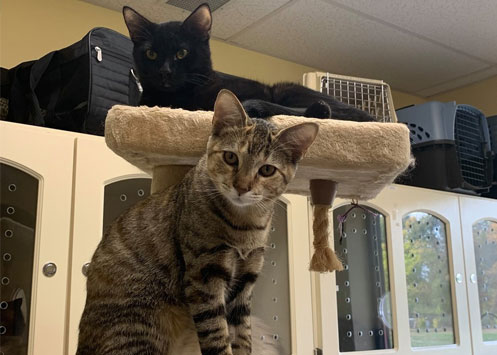 Nutritious Meals For Our Feline Guests
Cat Boarding guests can be served up to three nutritious meals a day. You are welcome to provide your cat's favorite food during their stay. We are also able to provide a high-quality commercial diet cat food if requested. Should your cat have special needs or dietary restrictions, we will provide a feeding schedule tailored to your requests.
The Cleanest Cat Boarding Condos
All of our cat boarding condos are thoroughly cleaned every morning and tidied throughout the day to assure guests comfort and cleanliness. All of our cleaning products used in the play and overnight areas are ecofriendly to ensure the best care and safety for our guests.
Focused Play Session For Your Cat
Cats enjoy interaction and being engaged. We recommend enhancing your cat's stay with individual sessions devoted to what they enjoy the most. Does your kitty enjoy playing on a cat tree, chasing a toy mouse, laser, or just being cuddled by an adoring fan? Tell us what your furry friend likes to do and we'll make sure it happens!
We want to thank you, your husband and your entire staff for taking such great care of Willow and Neo while we were on vacation! They came back happy & healthy – and we know they'll enjoy returning.
— Theresa & Chuck MacNaughton
I could not be happier with our 2nd experience leaving Bruiser at Paws. I think he was more comfortable and calm.
— Marucci Family
I wish to thank all of you so much for all the kindness during my recent stay at your resort and spa. I really appreciated the rooms with a view and I certainly appreciated that extra attention & petting that Jenifer gave to me. I will be sure to all of my friends about your wonderful folks.
— Lady Cassie
Just wanted to say thank you for taking such good care of our babies. We appreciate it. It felt good to know they were being loved & cared for & given special attention.
— Steve, Wendy, Cookie, Cleo, and Sarah
Our dog, Kasey is staying at Paws. I want to take a moment to tell you how happy we are to have her there. We are so impressed with the cleanliness of Paws Resort and have out children bringing their dogs to you. I'm so grateful that you have designed Paws with everything we were looking for. We it not for my 5 grandchildren and their needs, I would love to work with such kind loving people who really know their stuff.
— Nancy O'Donnell
Just a short note to thank you for taking such good care of Eve when she has stayed with you and come in for grooming. I was very impressed that Eve's rugs and blankets were all washed when I came to pick her up. I know you all take great care of her, because she jumps out of the car and runs up to the doors as soon as I pull up.
— Colleen Kinyon