The Best in Overnight Cat Boarding
Our feline guests vacation like the kings and queens they are! Our deluxe cat boarding accommodations are clean, comfortable, and separate from our dog guests. Rest assured your cat will receive the attention and love they deserve while you're away from home.
New Customer Free First Night of Boarding
We can't wait for you to experience the difference at Paws Pet Resort.
We're so sure you'll love it, your first night's FREE!
*Offer requires a 3-night minimum stay. Discount subject to availability and blackout dates, and cannot be combined with other offers.
Lodging discount applies to first-time customers only and is valid for any lodging accommodation selected.
Our Cat Suites are Purrfection!
All of our feline guests enjoy their stay in one of our spacious two-room condos. We can expand our condos into two or four adjoining units for families with multiple cats or those who just prefer even more room. Here's what else your cat can expect from a stay at Paws Pet Resort & Spa:
Climate-controlled surroundings and fresh, filtered air
Plenty of peace and quiet along with the soothing sounds of music
Daily wellness checks provided by highly trained caregivers
Soft, clean bedding
Just the right amount of human love and attention
Routine feedings of your pet's normal diet
Litter kept tidy every day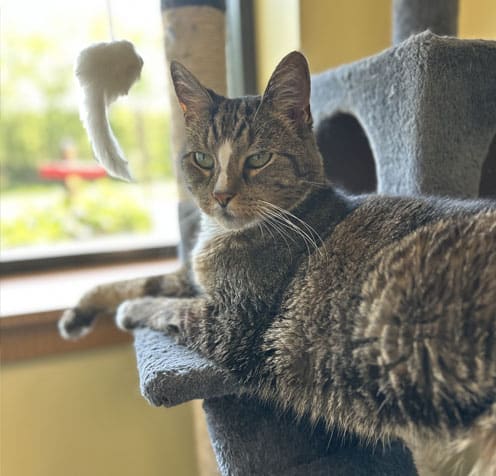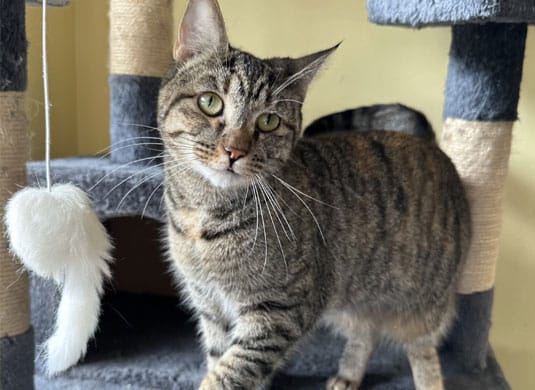 Cat Play Sessions & Activities
Cats enjoy interaction and being engaged, especially when away from home. We recommend enhancing your cat's stay with a fun-filled cat activity package! Does your kitty enjoy playing on a cat tree, chasing a toy mouse, laser, or just being cuddled by an adoring fan? Tell us what your furry friend likes to do and we'll make sure it happens!
Customized play sessions
Roaming time in the cat room
Snuggles and attention with a cat-loving caregiver
Special, tasty treats
The people who work at Paws are the most amazing, giving and loving employees. My dogs cannot wait to get there for daycare. And when I pick them up at the end of the day, I am greeted by friendly, nice and informative Paws employees, and by my very happy dogs!! I drive from Avon to Cheshire to utilize Paws. There are many choices much closer to my home, but I'll gladly do the drive to stay at Paws!! Keep up the amazing job you do! Bravo!!
— Dawn M
Absolutely exceptional love and care for our fur babies from Paws and the entire staff. We were hesitant and anxious on leaving our furbies for the first time, however put to ease as the stay days progressed. Very good and clear communication regarding our pups and their stay. Would highly recommend this extended family as an option for your fur baby. With appreciation on behalf of Penelope, Max and Italy
— Rose R
Excellent care for our puppy! The playtime pictures that were texted to us during her stay kept our minds at ease. She had a great visit and she was just as happy when we picked her up as she was when we dropped her off! We have used them in the past with other dogs and they were awesome then too. I wouldn't trust anyone else, the staff truly loves and cares the dogs!
— Alison S-H
Harlow has been going to Paws since she was 6mo old. She will be 10 next month. While I worked she went 2-3x a week. Now she still goes when we go on vacation. As soon as we turn in the parking lot she howls. She gets so excited! It's such a comfort knowing she loves it and she's in good hands! I love when they send a pic of her playing while I'm away. I know she's happy.
— Robin C
First time daycare here for our dogs and it was the best experience for all of us! The resort was so nice and inviting and the staff were super nice. We felt good leaving them and the best part was the pictures of their day. We were visiting from FL and only wish we had a resort like this to bring them to on a regular basis. This place is phenomenal and highly recommended!! Thank you for taking such great care of our pups to enjoy their play date!
— Diana Flynn
Every time we even mention Paws, our dogs get so excited and can't wait to stay there. The staff are phenomenal and I never have any doubt that my two fur babies will be well taken care of at Paws. They're always exhausted from the constant attention and playtimes they get. We truly love this facility and everyone who works there! Thank you so much for giving us the peace of mind that our pups are more than okay when we are not around! We will continue to use Paws time and time again!
— Elizabeth Hines