New Customer Free First Night of Boarding
We can't wait for you to experience the difference at Paws Pet Resort.
We're so sure you'll love it, your first night's FREE!
*Offer requires a 3-night minimum stay. Discount subject to availability and blackout dates, and cannot be combined with other offers.
Lodging discount applies to first-time customers only and is valid for any lodging accommodation selected.
Trustworthy and Award Winning Dog Boarding Services
We know you need to leave your dog with someone you can trust.  Our professional and caring dog boarding staff is here to deliver the best care possible.  We are recommended by leading area veterinarians and highly recommended by our customers in formal surveys and local reviews sites like Google and Yelp. We've even been featured on Better Connecticut's Channel 3 news and Connecticut's Channel 8 news.  Our staff has the most advanced, formal pet care training under the Outstanding Pet Care Learning Center guidelines, to ensure the highest standards of safety and care in the area.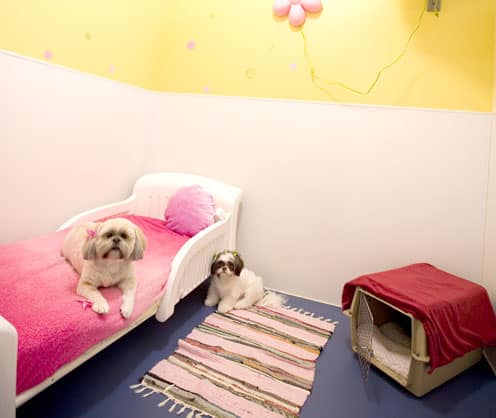 State-of-the-Art Climate Controlled Facility
Let us pamper your pet with our luxurious accommodations. Our entire facility is heated and air conditioned with relaxing music played throughout. Rooms are cleaned daily, and tidied as often as necessary to assure our guests comfort and cleanliness. All of our cleaning products used in the play and overnight areas are environmentally green to ensure the best care and safety for our guests and to protect the environment.  Providing a well maintained environment makes your dog's stay with us comfortable and fun.
Our dog guests are served two nutritious meals a day. You are welcome to provide your dog's favorite food during his stay. Should your dog have special needs or dietary restrictions, we will provide a feeding schedule tailored to their special needs. Dog boarding fee is the same regardless of food choice. All guests, regardless of room or package choice, will be exercised at least two times per day to stretch their legs, do their "business" and interact with a caring friend.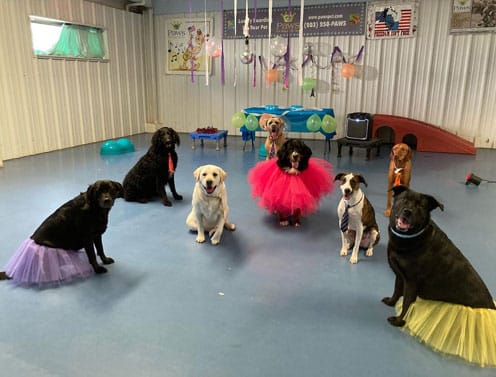 Additional Dog Boarding Activities and Services
We know each pet is unique and owners know their pet best. So we keep our base lodging rate as low as possible, and allow you to choose the customized level of activity that's best for you four legged friend boarding with us.
Our experience has shown that high levels of physical activity and interaction result in happier and healthier pets–especially when they're away from home. So we've taken our most popular activities and created discounted activity packages that you can choose from.  Call us for more information.
Dogs staying for the day or overnight may like to participate in our Play School program. In the Play School program dogs are separated into small groups based on age, size, activity level and temperament. It is a very structured hands-on program similar to nursery school for children. Each Play School session includes open play time, obedience reinforcement, use of puppy playground equipment, outdoor play time, and lots of positive reinforcement with hands on praise.
If your dog isn't a social butterfly and prefers individual attention, we recommend our individual play sessions. These sessions provide what your dog enjoys the most — playing with a ball, taking a walk or playing with a special toy from home. You tell us what your best friend likes to do and we'll make sure they get those special activities.
Is your dog used to being pampered? Then consider upgrading your dog's accommodations to include a premium bed while remaining in a standard room.
Our canine guests can enjoy some of the yummiest and healthiest treats available.
The people who work at Paws are the most amazing, giving and loving employees. My dogs cannot wait to get there for daycare. And when I pick them up at the end of the day, I am greeted by friendly, nice and informative Paws employees, and by my very happy dogs!! I drive from Avon to Cheshire to utilize Paws. There are many choices much closer to my home, but I'll gladly do the drive to stay at Paws!! Keep up the amazing job you do! Bravo!!
— Dawn M
Absolutely exceptional love and care for our fur babies from Paws and the entire staff. We were hesitant and anxious on leaving our furbies for the first time, however put to ease as the stay days progressed. Very good and clear communication regarding our pups and their stay. Would highly recommend this extended family as an option for your fur baby. With appreciation on behalf of Penelope, Max and Italy
— Rose R
Excellent care for our puppy! The playtime pictures that were texted to us during her stay kept our minds at ease. She had a great visit and she was just as happy when we picked her up as she was when we dropped her off! We have used them in the past with other dogs and they were awesome then too. I wouldn't trust anyone else, the staff truly loves and cares the dogs!
— Alison S-H
Harlow has been going to Paws since she was 6mo old. She will be 10 next month. While I worked she went 2-3x a week. Now she still goes when we go on vacation. As soon as we turn in the parking lot she howls. She gets so excited! It's such a comfort knowing she loves it and she's in good hands! I love when they send a pic of her playing while I'm away. I know she's happy.
— Robin C
First time daycare here for our dogs and it was the best experience for all of us! The resort was so nice and inviting and the staff were super nice. We felt good leaving them and the best part was the pictures of their day. We were visiting from FL and only wish we had a resort like this to bring them to on a regular basis. This place is phenomenal and highly recommended!! Thank you for taking such great care of our pups to enjoy their play date!
— Diana Flynn
Every time we even mention Paws, our dogs get so excited and can't wait to stay there. The staff are phenomenal and I never have any doubt that my two fur babies will be well taken care of at Paws. They're always exhausted from the constant attention and playtimes they get. We truly love this facility and everyone who works there! Thank you so much for giving us the peace of mind that our pups are more than okay when we are not around! We will continue to use Paws time and time again!
— Elizabeth Hines